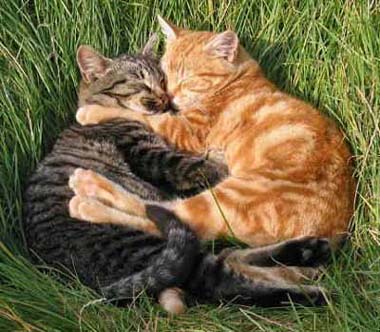 Beau'
s Mom sent out an email about appreciating all the
Mom Robyn
at
Hot (M) BC
and we thought we had to do that. We do appreciate all that she does for the cat blogosphere. Having a place to go chat when blogger went down was wonderful. We love the place she has found as a real time chat room too. It's so much nicer to have parties like that than just on blogger!
We like that she is always making sure we know which kitties are in need and how we can help. She's used her paypal account to let all of us help Brandi and her Mom. We just want to give her a big ole hug.
Anyway, that's not us as cats. We found this on a site called Swapmeet Dave and he has pages of cute cat and kitten photos.
Anyway, Cheysuli wanted to add a tip and Momma asked how much. Chey didn't know. So, she is giving $1.00 for every 2 comments (.50/comment) to Mom Robyn's tip jar. She will only count each cat once, so make sure she knows who you are if you have a duplicated name! Humans can comment to. Spread the word to go to Chey's and get comments so that Momma has to spend lots of money! I likes spending money. I wonder if my comments will count?